Impressive commitment from the new British PM, David Cameron, to make public information about government performance, as reported today on www.number10.gov.uk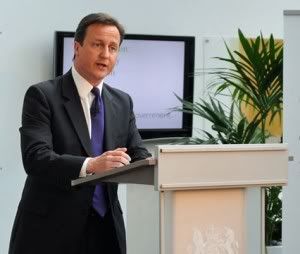 The PM said "If there's one thing I've noticed since doing this job, it's how all the information about government; the money it spends, where it spends it, the results it achieves; how so much of it is locked away in a vault marked sort of private for the eyes of ministers and officials only.

"I think this is ridiculous. It's your money, your government, you should know what's going on. So we're going to rip off that cloak of secrecy and extend transparency as far and as wide as possible. By bringing information out into the open, you'll be able to hold government and public services to account."
The statement goes on to announce some of the early information that will be made public:
As a first step, details of public spending over the past 12 months, information about hospital infections and some of the salaries of senior Whitehall officials will be published next week.
Full podcast here
Hmm, without wanting to sound too old and cynical, I do seem to remember hearing similar statements from new governments all over the world in the first flush of election.  Here's hoping this time it translates into an enduring commitment to sharing this information with the public.
We will be keeping a watch on it.